On 12/2/07 you will believe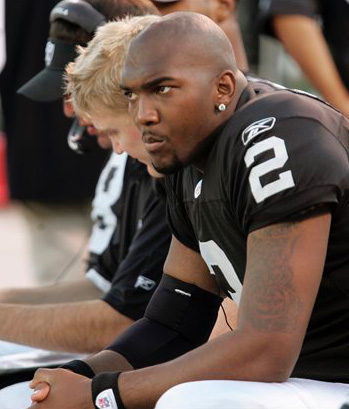 Is he the chosen one?
According to ESPN's Chris Mortensen, JaMarcus Russell will finally get his shot on December 2 against the Denver Broncos. Oakland seems to be happy with Russell's progress. They even said his "light came on" a few weeks ago. I really don't understand what Oakland is waiting for. If Russell showed anything a few weeks ago he should have been thrown out on the field against the Texans and the Bears.
The Raiders' season is over. They need to be playing JaMarcus Russell right now. He needs to get his feet wet for next season. Its not like the offensive line is what it was last season. It has improved by leaps and bounds. I love Lane Kiffin as a head coach, but I think he's in the wrong on this one. Oh well at least Russell will be starting at home.
I'm going out on a limb here but I think Russell can pull a win out for the Silver and Black on debut. And at the rate the Raiders are going, it would be their first AFC West win since November 28, 2004. Who did the Raiders defeat on that day? The Denver Broncos. Oh yes, on December 2, 2007 YOU WILL BELIEVE!
Posted: November 19, 2007 at 7:45 am | by Ryan
Filed under: Sports
(0)comments

So much for my "Dream Match"

No Heisman for you!
I was hoping and praying for a LSU vs. Oregon National Championship game. But thanks to crappy play and a bum knee, that's not going to happen. The Wildcats came to play and the Ducks fell victim to another upset. With or without Dennis Dixon, the Ducks had no business losing to Arizona. I should have known something bad was going to happen to Oregon when I saw Ryan Leaf on the sidelines. Read more…
Posted: November 17, 2007 at 5:25 am | by Ryan
Filed under: Sports
(0)comments

The San Francisco 49ers have a new fan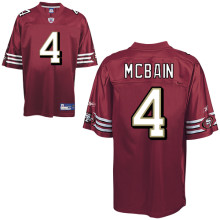 From this point on I am a San Francisco 49ers fan. But only for this season! I don't know why it took me so long to figure this out. You might be wondering why I would root for such a crappy team. I'm sure a great deal of Niner fans were swallowing pills after watching their our team get served on Monday Night Football.
I'm not crazy. There's a reason I'm adopting the 49ers. San Francisco's record this season is 2-7. If the draft were held today they would have the 4th pick…which goes to Satan's team. Yes the New England Patriots. In the 2007 NFL Draft San Francisco traded their 4th round selection (110th overall, used to select John Bowie) and their first-round selection in the 2008 Draft to New England for their last 1st round selection (28th overall, used to select Joe Staley). Thanks San Fran! Your upper management must have the intelligence of a stool sample. I also blame Roger Goodell for this debacle. If Goodell would have taken care of business by giving the proper punishment for "Spy Gate", this travesty would not be possible. At the very least the correct repercussion should have been a loss of the Pat's first round pick as well as the Niners'.
So that's why I hope the 49ers win as much as possible for rest of this season. I hope they make the playoffs. Hell, I hope they go to the Super Bowl. I wouldn't want them to win in the big game though. That would be crazy. But there's a better chance of me receiving my reparations check than the San Francisco 49ers winning the Super Bowl this year.
Posted: November 13, 2007 at 12:48 am | by Ryan
Filed under: Sports
(0)comments