Eli Manning: The Day After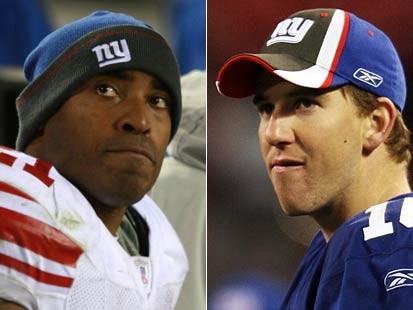 It's obvious Eli Manning slept rather well after the NFC Championship game. Upsetting the Packers was no easy feat. When Manning woke up he probably took a nice long morning piss and then walked down stairs to fix himself breakfast. Peanut butter Cap'n Crunch I'm guessing.
While eating the breakfast that probably never tasted so good, Eli most likely picked up the phone and made a call…
Ring…ring…ring

Tiki Barber: Hello.

Eli Manning: WHAT!?

TB: Umm, whose calling?

EM: Mothaf*cka don't play dumb. You know who this is.

TB: Eli?

EM: Nah. Nah, you little punk ass trick. Don't even call me that anymore. From now on call me Eazy "Mothaf*ckin" E!

TB: What the Hell is wrong with you? Are you drunk?

EM: Listen up slap dick. I know you saw the game Sunday night. And I know damn well you've been watching me get all up in that ass during the playoffs. You've been talking all this sh*t ever since you retired. I don't see you opening that horse mouth of yours now. My QB rating is off the chain in the playoffs hoe cake!!

TB: First off you need to calm down. Second off..

Eli interupts

EM: Shut the hell up before I come over with my posse and smack the sh*t out of you. You said I'm not a leader. Well, I'm taking my team to the Super Bowl. And I'm fixing to end the Patriots perfect season, mothaf*cka what!?!

TB: You're going to beat the Patriots? Ok, now I know you're drunk.

EM: Toss my salad you bald headed prick! I've been serving fools for a minute without Shockey and with Burress on a bad wheel. And don't even get me started on Toomer dropping more balls than Lance Bass at a gay bath house. How ya gonna feel when I get that ring? Better yet how is it gonna feel when I put that ring on and fist your anus!?!

TB: F*ck you! Don't ever call me again. I'm hanging up and calling Roger Goodell right now.

Tiki hangs up

EM: Oh no he didn't!!

Eli hits redial

Ring…ring…ring…ring

EM: Scared mothaf*cka!!

Answering machine picks up…

Answering Machine: Hello we can't come to the phone right now. Please leave your name and number after the beep.

EM: Tiki! Pick up. I just got one more thing to say.

TB: <Heavy sigh> Yes Eli?

EM: Suck my 6 inch white d*ck you fake ass Huxtable!!!

Eli slams the phone down, scratches his crotch, and then proceeds to finish eating his peanut butter Cap'n Crunch.

THE END
Posted: January 21, 2008 at 7:13 am | by Ryan
Filed under: Sports
(1)comment

He's our last hope?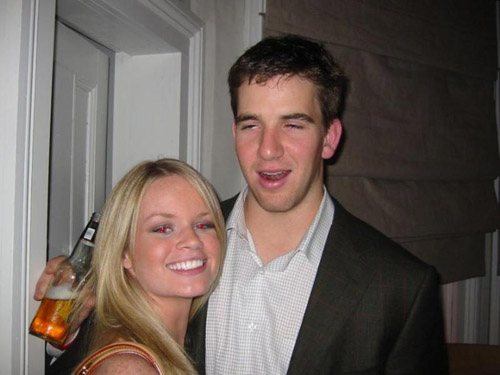 Lord, please give him the strength.
Giants 23, Packers 20. Unbelievable.
The Giants pull off the upset in overtime. I'm sure blood is running in every street in Green Bay.
So let me get this straight. The hopes and dreams of every righteous being on this planet rest on the shoulders of…
Elisha Nelson Manning?!
The NFL needs to just hand the Super Bowl trophy to the Patriots now. We already saw this game in week 17. The Patriots will be playing better this time around. There is absolutely no f*cking way in Hell the Giants are taking down Satan's Team in Super Bowl 42. It might be close, it probably wont. All I know is that when the Big Game is over, New England will have another ring, Tom Brady will be crying like a little school girl, Mercury Morris will have an aneurysm, and every annoying New England fan will be heard.
Oh well, maybe the Super Bowl commercials will be funny.
Posted: January 20, 2008 at 7:44 pm | by Ryan
Filed under: Sports
(3)comments

Choking: The Chargers Show Us How It's Done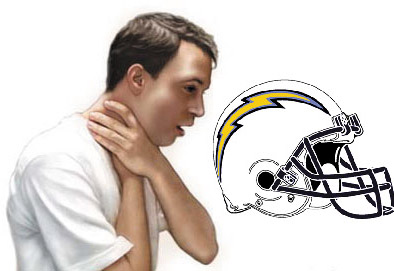 Satan's Team 21, the Dolts 12
Losing never feels good. Especially when you have more than enough chances to win. When this occurs, the word choking comes to mind. San Diego had New England in the red zone three times and could only muster up 9 points. Throw in another field goal and that's all the Bolts Dolts could come up with. The Patriots got in the red zone four times. They ended up getting three touchdowns out of those opportunities. The end result was Satan's Team 21, the Chokers 12.
Would San Diego have won if they were healthy? We'll never know. They might have still choked in the red zone. The Pats were lucky to get a win considering a gimp Chargers team kept it so close. But some teams seem to get all the breaks. I'm just surprised that the Dolts couldn't put away the Patriots. Nah, not really. When Norv Turner is your coach, are you really shocked when you lose?
Posted: January 20, 2008 at 6:21 pm | by Ryan
Filed under: Sports
(0)comments