Conservatives make Sir Charles sick
Charles Barkley.
Love him or hate him. One thing is for sure – the man speaks him mind.
"I've got great respect for Sen. McCain, great respect, but I don't like the way Republicans have taken this country. Every time I hear the word 'conservative,' it makes me sick to my stomach, because they're really just fake Christians, as I call them. That's all they are."
Barkley continues…
"I think they want to be judge and jury, like, I'm for gay marriage. It's none of my business if gay people want to get married. I'm pro-choice. And I think these Christians, first of all, they're not supposed to judge other people. But they're the most hypocritical judge of people we have in the country. And it bugs the hell out of me. They act like they're Christians. They're not forgiving at all."
And of course, the Christian Anti-Defamation Commission is none too pleased…
"Charles Barkley revealed an unfortunate lack of understanding of the Bible and Christian morality by attacking pro-life and pro-family conservatives as 'fake Christians,'" said Dr. Gary Cass, Chairman and CEO of the Christian Anti-Defamation Commission. "Barkley rips one phrase of the Bible from its context, and then asserts that anyone who is opposed to abortion or gay marriage is a 'fake Christian.'"
Dr. Cass continues…
"We respect Barkley as an expert on basketball, but he is obviously not an expert on Christian moral theology. The Christian Anti-Defamation Commission calls on Barkley to apologize for his hateful remarks. We are hopeful that he will do the right thing."
I agree with what Charles Barkley is saying to a certain degree. Not all republicans are fake Christians. The problem is, the ones with all the political power are. The amount of control they have over the party is downright scary. These republicans Neocons lacked this influence during the Ronald Regan area. Now it seems their machinations have no end.
[Group Calls for Apology from Charles Barkley for Anti-Christian Remarks]
Posted: February 18, 2008 at 12:36 am | by Ryan
Filed under: News, Sports
(1)comment

Slam Dunk Contest…GANGSTA
For those who missed it Saturday night, Dwight Howard owned the NBA Slam Dunk Contest. Note to Gerald Green: bring Kryptonite next year, YOU F*CKING CUPCAKE.
Posted: February 17, 2008 at 12:05 pm | by Ryan
Filed under: Sports
(0)comments

Brady Quinn hates gay people…which means he hates most of his fanbase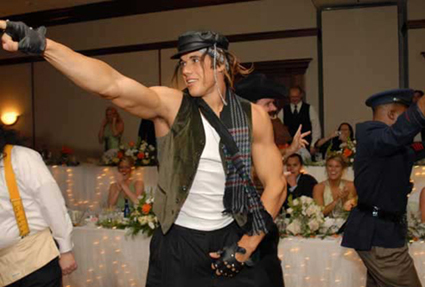 Apparently Brady Quinn has been drinking the Tim Hardaway Kool-Aid…with no chaser.
Quinn was allegedly part of a group of men shouting insults at gay passers-by outside a Columbus bar early on New Year's Day, according to a 9-1-1 call made to police. The call at 2:35 a.m. came from Seth Harris, who reported that he encountered the hate group in front of La Fogata Grill…ah yes, that would be a gay bar people.
Listen to the 9-1-1 call
A Columbus police spokeswoman said officers arrived several minutes after Harris' call and found Quinn in the midst of an argument with a 32 year old male.
I'm not a genius (I'm pretty close though) but wouldn't it make sense for Quinn to be polite to the people that probably love him the most in Ohio? If you're a male Browns fan who loves Brady Quinn – you are most likely gay…or pretty close to it. But don't cry. There's nothing wrong with being gay. Unless you want to be a Scoutmaster.
I digress…
I suppose Brady Quinn doesn't have the common sense to understand that it's never wise to bite the hand that feeds you. Now that this story has been brought into the light, it will be interesting to see if Roger Goodell does anything about this incident.
[Brady Quinn part of rowdy group outside Columbus bar, witness says]
Posted: February 13, 2008 at 5:44 am | by Ryan
Filed under: Sports
(0)comments