Young Hillary Clinton: Now it all makes sense
I always wondered why Hillary Clinton chose to run a dirty campaign against Barack Obama. This video explains it all.
I'm gonna give Jerry O'Connell some props for this one. It's a shame I still can't get My Secret Identity out of my mind though. I've seen pornos with better story lines. As a matter fact I think I'll go watch one right now…
Posted: May 29, 2008 at 12:02 pm | by Ryan
Filed under: Humor?
(0)comments

The Spurs weren't screwed…Brent Barry was!!
It was suppose to be Brent Barry's night in Game 4. "The greatest White slam dunk artist" of all time deserves more respect. The only White man ever to win the coveted Slam Dunk title was screwed with no lube last night.
Tim Legler said the reason Barry didn't get that call was because he stopped, pulled back and put up the three. Legler went on to say that in a situation like that, the only way to convince the referees to blow the whistle is if he'd driven forward into the contact and then put up the shot. Riiiight. The reason Brent Barry didn't get the call is because he is…BRENT BARRY!!!
Oh well, it's not like I really care. I hate the Lakers, but I want to see an entertaining NBA finals. I'm sick and tired of the Spurs. Plus, I can't help but realize that karma is a bitch LOL…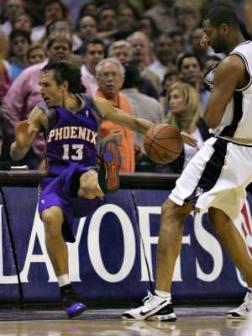 Posted: May 28, 2008 at 7:16 pm | by Ryan
Filed under: Sports
(0)comments