David Duchovny wants to have boring sex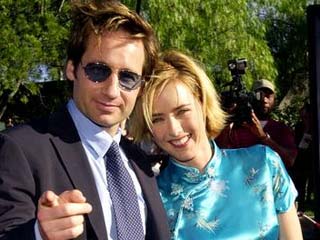 I wonder what type of freaky shit he use to make her do…
So David Duchovny has checked himself out of rehab. What was his drug of choice? Sex. Wild, kinky, dirty, filthy porno sex where you shoot Peter North loads on…well you get the point. Apparently the former X-files star couldn't handle the addiction anymore and needed help.
Hey dawg, I feel what you're going through. But unlike you, I'm never going to run away from what you call an addiction. I call it a gift. I mean come on man, if sex isn't dirty then you're not doing it right. When I reach the pearly gates I'm sure I'll be asked about my sins. The big Black man in the sky is gonna try and grill me on the fact that some several women call me a sexual deviant. I'll be sure to tell him when it comes to this, the only thing I'm guilty of is having a healthy sexual appetite.
After that I'm gonna ask to see 2pac.
ONE!
I never understood interventions. What's the point of being told you drink too much from a room full of reasons why you drink in the first place?
Posted: October 7, 2008 at 1:57 pm | by Ryan
Filed under: Humor?, News
(0)comments