The Spurs weren't screwed…Brent Barry was!!
It was suppose to be Brent Barry's night in Game 4. "The greatest White slam dunk artist" of all time deserves more respect. The only White man ever to win the coveted Slam Dunk title was screwed with no lube last night.
Tim Legler said the reason Barry didn't get that call was because he stopped, pulled back and put up the three. Legler went on to say that in a situation like that, the only way to convince the referees to blow the whistle is if he'd driven forward into the contact and then put up the shot. Riiiight. The reason Brent Barry didn't get the call is because he is…BRENT BARRY!!!
Oh well, it's not like I really care. I hate the Lakers, but I want to see an entertaining NBA finals. I'm sick and tired of the Spurs. Plus, I can't help but realize that karma is a bitch LOL…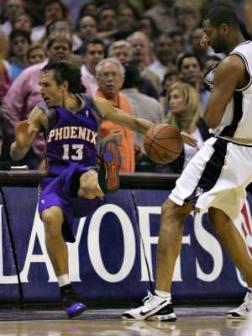 Posted: May 28, 2008 at 7:16 pm | by Ryan
Filed under: Sports
(0)comments