Lane Kiffin did what?!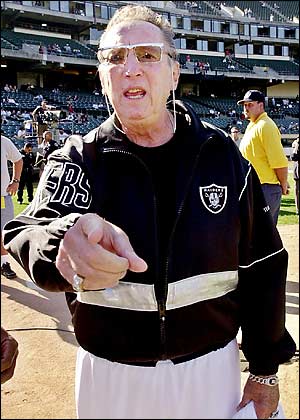 "Lane, I think you and me can do business together for a long time.
Just remember. I'll only tell you one time.
Don't f*ck me Lane. Don't you ever try to f*ck me."
For the past few days I have been drinking heavily and trying to figure out why Al Davis wanted Lane Kiffin's head on a stick. Yes the Raiders went 4-12 this season, but Planet Earth's Team looked improved. The offensive line looked recharged and Oakland was in almost every game.
But it seems Coach Kiffin may have broken the most sacred law of Al Davis. Davis demands his posse to be loyal to him. In return Davis takes care of you.
SI.com writer, Bucky Brooks writes…
Lane Kiffin may have underestimated the significance of loyalty when he (or an associate close to him) reportedly inquired about the Arkansas and UCLA jobs near the end of the season. His alleged pursuit of those jobs would be seen as the ultimate act of disloyalty by Davis.
But wait, there's supposedly more to the story. Dave Del Grande of insidebayarea.com wrote this in his column today…
Lane Kiffin has threatened to make Al Davis' life a living hell if the Raiders owner doesn't give him $4 million for doing absolutely no work, sources close to Davis told me today.

The young man given the opportunity of a lifetime by Davis stormed into his boss' office on the heels of a season in which his offense improved only marginally despite the organization having imported a handful of key new players, including a Super Bowl star and the No.1 pick in the draft.

Based on that "success," Kiffin demanded full control over the defense next season or he was "outta here." Davis obliged, handing him a letter of resignation.

Kiffin refused to sign, insisting on being paid in full or he'd go "Randy Moss" on the organization.

Proving he had a plan of destruction, Kiffin's first act of defiance was at the Senior Bowl, when he refused to wear a Raiders jacket at the nationally televised game though all his assistants did.
Ok, now I understand where Al Davis is coming from. If all of this is true, then Lane Kiffin has a lot of balls. Kiffin has a formula he believes will work to the point where he is willing to go toe to toe with the boss.
Al Davis must feel betrayed. He gave Kiffin a chance when nobody else would. I'm guessing he thinks Kiffin (who is 32) is a young pawn that should be grateful and shut his mouth. Also, showing the slightest interest in other coaching opportunities (no matter the reason) after only one year – in the eyes of Al Davis means you're spitting in the face of Raider Nation.
If history has showed us anything, it's once you get in Al Davis' dog house, it is improbable that you will get out. Just ask Marcus Allen and John Gruden.
Even though Al Davis might have at least one good reason to be mad as Hell at Lane Kiffin, he needs to realize that getting rid of him after only one season will hurt the Raiders. Kiffin is doing a good job right now. If Lane wants more control, then Al should give it to him. Kiffin most likely showed interest in other coaching ventures because he didn't have the control he wanted and possiably was promised.
Al Davis has had all the power in the past and the Raiders keep on losing. The definition of insanity is doing the same thing over and over and expecting different results. Davis needs to swallow his pride and let the kid do his thing. This probably wont happen and it will bite Al in the ass in the long run. When Davis got rid of Marcus Allen, the HOF running back went to Kansas City and stuck it to Al Davis. If John Gruden had not gone to Tampa Bay, the Raiders probably would have won Super Bowl XXXVII.
What are some of the moves Lane Kiffin would do if he was given the power? The Boy Wonder wants to fire defensive coordinator Rob Ryan (who wants to leave anyway), defensive line coach Keith Millard, linebackers coach Don Martindale, and defensive backs coach Darren Perry. Considering the Raiders defense went from being ranked 3rd to crap – I can see why. Ryan and his crew built a defense that last season gave up 145.9 rushing yards (ranking them 31st), allowed ten 100-plus yard rushers and coughed up a league worst 4.8 yards per carry and 24 rushing TDs. But Al Davis refuses to give Lane Kiffin what he wants. Sounds like foolish pride to me.
It seems the pride of Al Davis and Lane Kiffin is Raider Nation's worst enemy. Someone get Shakespeare on the phone. I smell tragedy.
[Kiffin may have broken cardinal rule of Raider Nation]
[Kiffin-Davis report one-sided]
I never understood interventions. What's the point of being told you drink too much from a room full of reasons why you drink in the first place?
Posted: January 29, 2008 at 4:01 am | by Ryan
Filed under: Sports
(2)comments