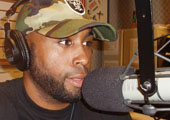 "Good judgment comes from experience, and a lot of that comes from bad judgment. So bend over, either way you're f*cked"
If you ask people who have actually met Ryan. They will either tell you that he is a very, interesting, caring, intelligent individual with a sick sense of humor, or a dirty, egotistical, pervert, with a sick sense of humor. Its kind of like the Oakland Raiders, you're either going to love him or hate him.
Ryan grew up always being the prankster. Practical jokes were his cup of tea. Throughout his high school the talk of the day would be what Ryan did or said. While going to college (California State University, Northridge 2000-2004), one of his favorite things to do when bored in the dorms was to call random people and then breathe heavily into the phone while taping it. Like I said, he's got a sick sense of humor.
After graduating from college Ryan was stuck. He couldn't find a job in radio so he was forced to work for a rental car company.
"I'm not gonna say I wish I never worked there. I learned a lot and I met some cool people. I never knew what hard work was till I started working there. I was there for almost two years so I know I can handle almost anything."
Eventually he found a job in the promotional department for KMPC. It wasn't an on air job, but it was a step in the right direction. He then worked his way into the programming department and became a producer/board operator. Working behind the scenes, he eventually was able to get on the air from time to time. Even though he is not yet a full time on air guy, it was giant step toward his goal. During 2005 he was on the Fred Roggin Show giving his "unique" week in review which was on 1540 The Ticket in Los Angeles.

Currently he works behind the scenes for a political talk station. What station is that? NONE OF YOUR DAMN BUSINESS.