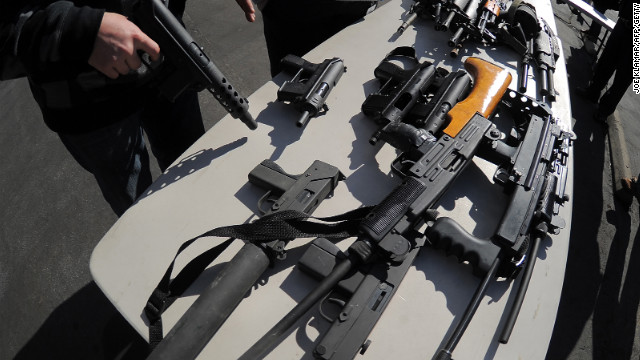 President Barack Obama on Wednesday proposed background checks on all gun sales and bans on assault weapons and high-capacity magazines as part of a package of steps to reduce gun violence in the wake of the Newtown school massacre last month.
With relatives of some of the 20 children killed in the Connecticut rampage looking on, Obama signed 23 executive actions that don't require congressional approval that he said would strengthen background checks and expand safety programs in schools.
He also called on Congress to reinstate an assault weapons ban that expired in 2004, to restrict ammunition magazines to no more than 10 rounds, and to require a background check on anyone buying a gun, whether at a store or in a private sale at an auction or convention.
Referring to the young students killed in the Newtown shootings on December 14 and other victims of gun violence, Obama said the nation must do a better job of protecting its children, especially when they are in public places such as schools, shopping malls and movie theaters.
While some of the steps he proposed are given little chance of winning congressional approval in the face of the nation's powerful gun lobby, Obama said all efforts must be made to reduce chronic gun violence in the country.
"This is our first task as a society -- keeping our children safe," the president said, adding that saving even one life would make the changes he seeks worth the effort.
Already under fire by the National Rifle Association, which claims Obama seeks to violate the constitutional right for civilians to bear arms, the president said that wasn't true.
"We can respect the Second Amendment while keeping an irresponsible law-breaking few from inflicting harm on a massive scale," he said.
Obama proposed legislative steps he previously has backed, such as reinstating the Clinton-era ban on assault weapons, and also requested that funds be made available to help treat mental illness and provide schools with support to enhance their safety.
Vice President Joe Biden led a panel assembled by Obama to examine gun control steps after the Newtown shootings, which sparked a fierce public debate over how to prevent such mass killings.
"The world has changed, and it's demanding action," Biden said at Wednesday's White House event.
Opponents led by the NRA promise a political fight, with an NRA spokesman saying Tuesday that the group has experienced what he called an "unprecedented" spike in membership numbers since new calls for gun control began in the past month.
Approximately 250,000 people have joined the organization's existing 4.25 million members, according to NRA spokesman Andrew Arulanandam.
"This is in direct response to the threats and accusations coming from" Obama and other political leaders, Arulanandam said, adding that "if anyone is wondering if the American people cared about the Second Amendment ... those numbers give a very clear answer."
In addition, the NRA is receiving an influx of financial contributions, he said, adding: "This is going to be a very expensive and hard-fought fight."
However, new polls show increased public support for stronger gun control measures,and Obama called for citizens to let their elected representatives know what they think.
"The only way we can change is if the American people demand it," Obama said.
His executive actions signed Wednesday called for tougher enforcement of existing laws and required federal agencies to provide data for background checks.
Obama also said he would nominate B. Todd Jones, the acting director of the Bureau of Alcohol, Tobacco, Firearms and Explosives, to become its permanent chief. The agency has been without a full-time director for six years.
A main focus of Obama's steps was closing loopholes in background checks. While requiring universal background checks would require congressional approval, some of the executive actions signed by Obama were intended to bolster the existing system.
Across the country, more than a million people failed background checks to buy guns during the past 14 years because of criminal records, drug use or mental health issues, according to FBI figures.
That figure, however, is a small fraction of overall gun sales.
Obama also called for more money to strengthen gun safety at schools, including hiring more counselors such as retired law enforcement officers to help educate students on gun issues. He also called for more funding for communities to hire more police officers, but stopped short of seeking the NRA's proposal for armed guards at every school.
Legislators said working with Congress will be paramount in curbing gun violence. California Rep. Mike Thompson told CNN on Tuesday that a ban on high-capacity magazines could garner Republican support, but a full-scale assault weapon ban would be hard to get passed in the GOP-controlled House.
House and Senate committees said they would start holding hearings on gun control measures in coming weeks.
In New York, Democratic Gov. Andrew Cuomo on Tuesday signed into law a series of new gun regulations -- the nation's first since the Newtown shootings.
Both New York's GOP-controlled Senate and Democrat-controlled Assembly approved the measure by overwhelming margins.
It includes a statewide gun registry and adds a uniform licensing standard across the state, altering the current system, in which each county or municipality sets a standard.
Residents are also restricted to purchasing ammunition magazines that carry seven bullets, rather than 10.
"The changes in New York are largely cosmetic," said CNN legal analyst Paul Callan, who described state's existing regulations as "the toughest gun laws in the United States."
Lawmakers in at least 10 other states are reviewing some form of new gun regulations in the new year.
Source: CNN