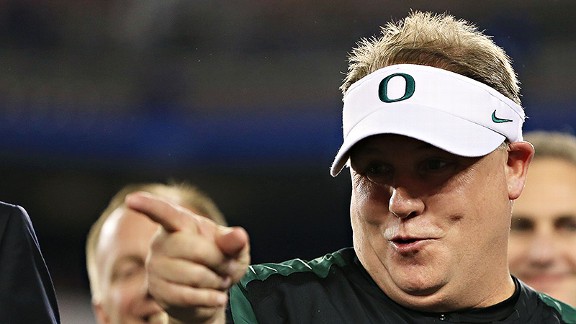 The Eagles have hired Chip Kelly after he originally chose to stay at Oregon.
Kelly becomes the 21st coach in team history and replaces Andy Reid, who was fired on Dec. 31 after a 4-12 season.
"Chip Kelly will be an outstanding head coach for the Eagles," said owner Jeffrey Lurie said in a statement. "He has a brilliant football mind. He motivates his team with his actions as well as his words. He will be a great leader for us and will bring a fresh, energetic approach to our team."
Kelly, who was 46-7 in four years at Oregon, interviewed with the Eagles, Cleveland Browns and Buffalo Bills after leading the Ducks to a victory over Kansas State in the Fiesta Bowl. But he opted to remain at Oregon before changing his mind.
The Eagles are known to have interviewed 11 candidates, including two meetings with Seahawks defensive coordinator Gus Bradley. Philadelphia has won just 12 games the two seasons, after winning the NFC East in 2010.
Kelly re-emerged as a candidate recently and an agreement was just reached Wednesday, league sources told ESPN.
Oregon has scheduled a press conference this afternoon to discuss "news," as it moves past the Kelly era.
Following the Fiesta Bowl, the 49-year-old Kelly said he wanted to get the interview process over "quickly." Turns out, it was anything but.
He came close to jumping to the pros last year but turned down an offer from Tampa Bay to return for his fourth season as coach at Oregon, where he is 46-7. He has boosted the school's national profile -- flashy uniforms helped -- with a high-powered offense capable of turning any game into a track meet.
"It's more a fact-finding mission, finding out if it fits or doesn't fit," Kelly said after the Ducks defeated the Wildcats, 35-17. "I've been in one interview in my life for the National Football League, and that was a year ago. I don't really have any preconceived notions about it. I think that's what this deal is all about for me. It's not going to affect us in terms of we're not on the road (recruiting). I'll get an opportunity if people do call, see where they are.
"I want to get it wrapped up quickly and figure out where I'm going to be."
Kelly doesn't have any pro coaching experience, but aspects of his up-tempo offense are already being used by some NFL teams, including New England and Washington.
Kelly never said if he was leaning one way or another following the bowl.
"I said I'll always listen, and that's what I'll do," he said. "I know that people want to talk to me because of our players. The success of our football program has always been about our guys. It's an honor for someone to say they'd want to talk to me about maybe moving on to go coach in the National Football League. But it's because of what those guys do. I'll listen, and we'll see."
Oregon could be facing possible NCAA sanctions for the school's use of recruiting services, but Kelly indicated in Arizona that he isn't running from anything.
"We've cooperated fully with them," he said. "If they want to talk to us again, we'll continue to cooperate fully. I feel confident in the situation."
Oregon's players gave Kelly a Gatorade bath as the final seconds ticked off the clock vs. Kansas State, and afterward a few of the Ducks seemed resigned to their coach moving on.
"We'll have to see," quarterback Marcus Mariota said. "Whatever he decides to do, we're all behind him. He's an unbelievable coach. He's not only a football coach, but he's someone that you can look to and learn a lot of life lessons from. Whatever happens, happens. But we're all behind him.
"We'll see where it takes us."
For a while, it seemed like Cleveland was the front runner, if indeed Kelly was to make the jump. He met with the Browns for seven hours at an undisclosed location -- five in negotiations with a two-hour break for dinner -- and agreed to talk again. But talks never progressed from that point.
Source: AP